Sep 28, 2022
September 28, 2022
8AM-4:30PM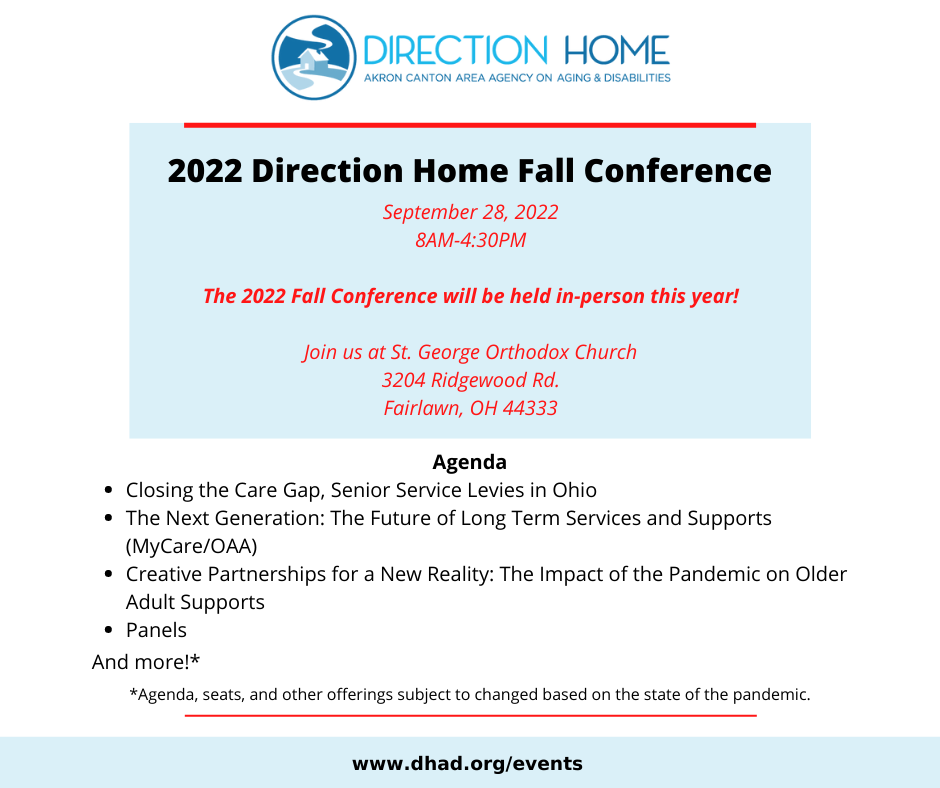 The 2022 Fall Conference will be held in-person this year!
Bringing together professionals and leaders from healthcare, social services, and public administration, the Fall Conference examines the issues, practices, and discoveries affecting the lives of the older adults and individuals with disabilities we all serve.
The conference will now be a full day hosted in-person on September 28, 2022 at St. George Orthodox Church. The 2022 conference features leaders and experts in the state of the region, working together to identify needs, post-pandemic innovations, preparation for the future of aging, and age friendly initiatives. Attendees have the opportunity to discuss important issues and celebrate successes in the field with the people advancing the cause.
Join us at St. George Orthodox Church
3204 Ridgewood Rd.
Fairlawn, OH 44333
September 28, 2022 
8AM - 4:30PM
Agenda:*
(PENDING 5.5 CEUs: LSW/LISW/SWA, RN, LPC/LPCC)
Continental Breakfast and Lunch provided
8-8:30 AM State of the Agency
8:30-9:45 AM Closing the Care Gap, Senior Service Levies in Ohio (pending 1.0 CEU)
10-11:15 AM The Next Generation: The Future of Long-Term Services and Supports (MyCare/OAA) (pending 1.0 CEU)
11:15 AM - 12:30 PM Creative Partnerships for a New Reality: The Impact of the Pandemic on Older Adult Supports (pending 1.0 CEU)
1:30-2:45 PM PACE Panel (pending 1.0 CEU)
3-4:30 PM Age Friendly Panel  (pending 1.5 CEUs)

*Tentative; agenda/seats/offerings subject to change based on state of the pandemic
Thank you to our 2022 Fall Conference Sponsors!