Feb 08, 2022
With Peer-to-Peer University and Akron-Summit County Public Library.

Learn to become a great storyteller with guidance from professionals. This six-session course is in collaboration with Direction Home Akron Canton Area Agency on Aging & Disabilities. PLEASE REGISTER HERE. Spots are limited!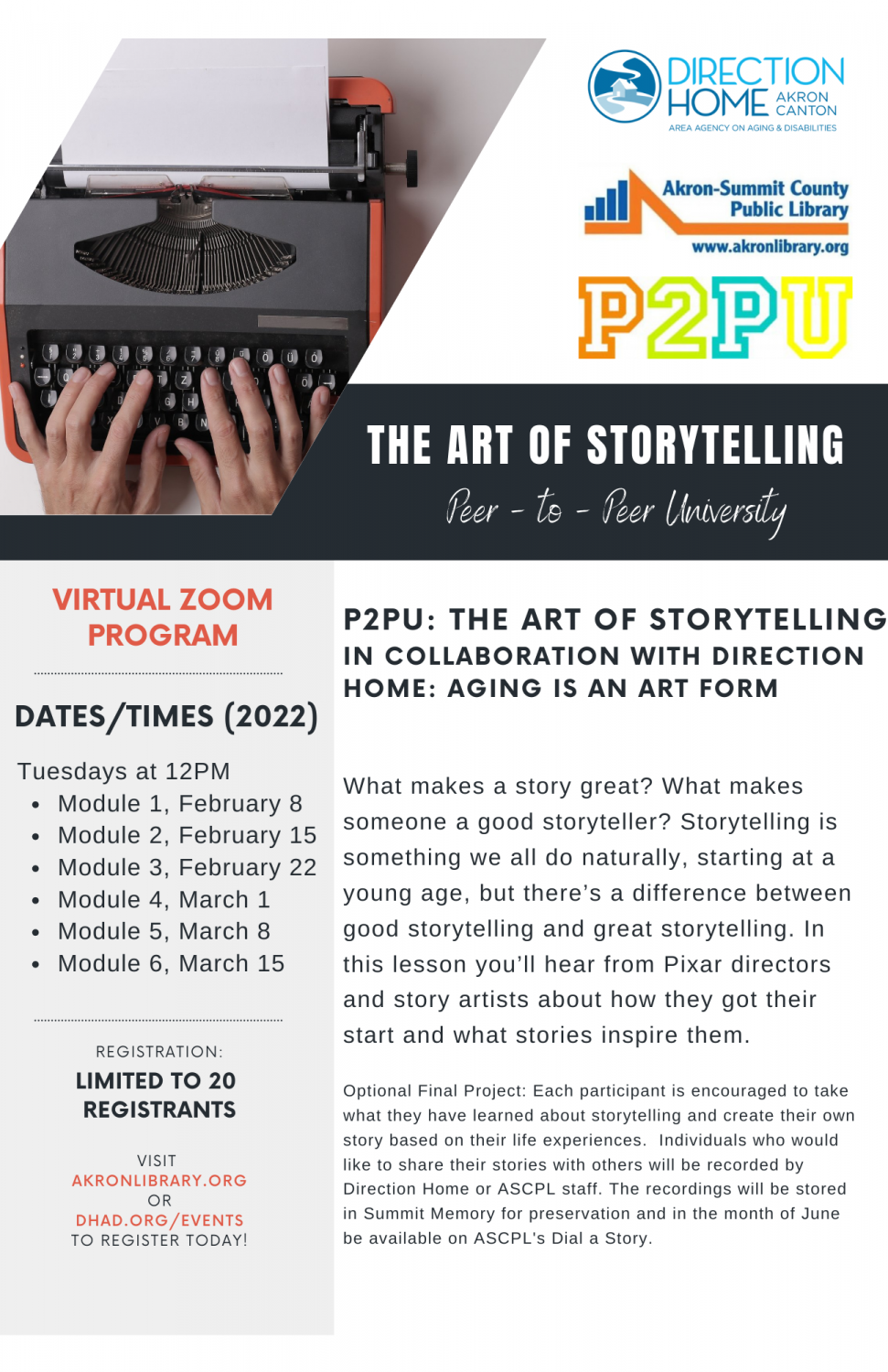 The Art of Storytelling:
What makes a story great? What makes someone a good storyteller? Storytelling is something we all do naturally, starting at a young age, but there's a difference between good storytelling and great storytelling. Through this class, presented on Zoom, you will hear from Pixar directors and story artists about how they got their start and what stories inspire them, and you'll begin to think about what kinds of stories you might want to tell. This is a six-part class with an optional final project.
Project:
Each participant is encouraged to take what they have learned about storytelling and tell a story based on their life experiences. Individuals who would like to share their story with others will be recorded by Direction Home or ASCPL staff. In the month of June, these stories will be available on our Dial a Story as part of the Late Night Summit ArtSpace's Art Walk: Creative Aging. This is a family friendly forum for others to hear and enjoy your story.
Local recordings will be stored in Summit Memory and offered to Summit and Stark County Historical Society's for preservation.  
Dial-A-Story offers free pre-recorded stories, poems, riddles, jokes and now local stories read by your favorite ASCPL Staff. Call 234.274.4400 and choose the recording you would like to hear from the menu. Stop by every month to listen to something new!
Summit Memory is an online, collaborative project capturing the history of Summit County, Ohio. Collections include historic photographs, documents, newspapers, artifacts and audiovisual resources contributed by partner organizations throughout the county. Summit Memory is administered by the Akron-Summit County Public Library.