Nov 13, 2023

Bid on items from 11/7-11/13!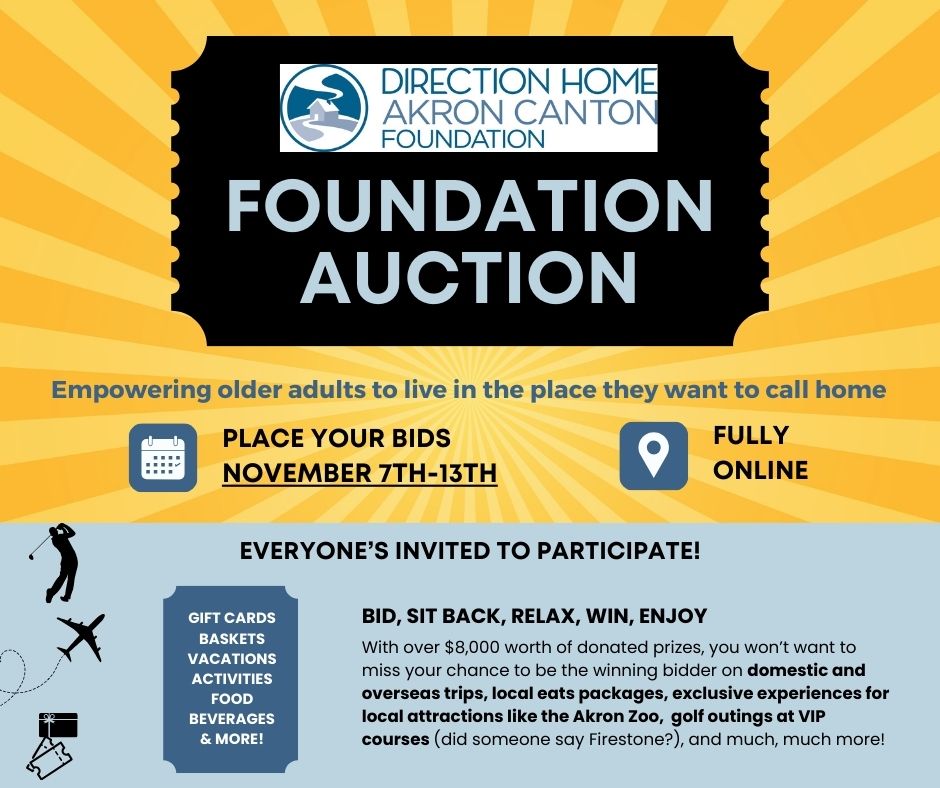 Introducing Direction Home Akron Canton Foundation's first Foundation Auction! Raffle baskets have proven popular with our own staff, so we wanted to open up the fun to our partners. We've received dozens of unique and high-end donations to our auction, from exclusive golf packages to exotic trips and more. Everyone is welcome to participate in the auction by placing bids on desired items. When the auction closes on November 13th at 9pm, the highest bidders will automatically win their prizes!

How does it work?
Bidders can make accounts on our secure auction site at any time using the link above.
When the auction goes live at 7am on November 7th, head over to the auction site to browse and start placing bids. 
There is an "Otto Bid" function that automatically increase your bid each time a competing offer goes in the pool. This is much like eBay's "auto-bid" feature and is a good option if you know you want the prize no matter the price.
There is no limit to the amount of bids you can place or the amount of items you can bid on. 
Bids will be accepted from 11/7/2023 at 7am thru 11/13/2023 at 9pm.
When the auction concludes, winners will be notified and pick-up information will be sent out by our team.
ANYONE in Ohio (individuals, organizations, professionals or non-professionals, DHAD staff, the general public) can bid and ANYONE (you) can win! Spread the word to family and friends because some of these prizes would make great gifts for holidays and birthdays... hint, hint....

We welcome long-distance bids throughout the state but winners will have to arrange a way to pick-up the prize(s).
Where does the money go?
Since all of our prizes were donated, all proceeds will benefit our Foundation. Since Portage, Stark, Summit, and Wayne counties are four of the 11 Ohio counties without Senior Service Levies, we use Foundation funds to advocate for older adult services and funding throughout our area, state, and at the national level. Just because we don't have levies funding long-term home care services in this region doesn't mean the services aren't desperately needed. All older adults, regardless of income, should be able to reach their long-term care goals. 
Is the Direction Home Foundation Auction the same as the Foundation Raffle?